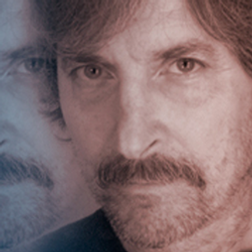 David Fox  is a musician, singer and songwriter.  His passion for music was evident at an early age when he was inspired by the exuberance of Buddy Holly, the drama and passion of Roy Orbison, the energy and abandon of Jerry Lee Lewis, and the echoing twang of guitarist Duane Eddy.  Growing up in Paterson, New Jersey, David began as a drummer... but, like so many, took up the guitar and songwriting shortly after hearing The Beatles for the first time.  His earliest songs were recorded at the age of seventeen where, during a chance meeting in the recording studio, his drumming was praised by legendary blues musician Muddy Waters.
In his early years, David was signed by The Robert Stigwood Organisation, then managers of Eric Clapton, The Bee Gees, The Staples Singers, and John Mayall.  He was selected to play the part of George for a touring company of the Broadway show Beatlemania, and also opened for popular recording artists such as Janis Joplin, David Bromberg, Brewer & Shipley, Bloodrock, and Rory Gallagher.
In the early eighties, he was a member of the popular band Backseat Van Gogh, and in 2000, David was awarded a Grand Prize in The John Lennon Songwriting Contest, an international competition.
In 2012, David released his first solo album "Scratches and Dust" about which Music Reviewer Alec Cunningham said, "If you were to trap The Beatles and the Beach Boys during their prime in a recording studio, the result would be a sound much like David Fox's." 
David's second solo album "Driving by the Light of the Moon", is an introspective collection of twelve original songs about love, loss, and times gone by.  The album includes his song "Paterson" about the place and time of his youth.  Of the song "Paterson", TV and radio personality "Uncle Floyd" Vivino said, "It's unbelievable, this masterpiece he made called 'Paterson'… if you haven't heard this yet, you're in for a real treat."  
On both solo albums, with the exception of two tracks, David sings all the vocals and plays all the instruments, including electric and acoustic guitars, piano, keyboards, bass, and drums.
David is currently working on a third album of original songs, with topics ranging from social commentary to wistful nostalgia, loss, hope, relationships... and even a touch of the mystical!